Thursday, January 28, 2010
I'm currently working on the texture for the ICSE Brute Destroyer. This is one complex sonofabitch. Enjoy. :)
http://grab.by/22rR
Posted by

Ryan
at 1:56 PM
0 comments

Thursday, January 21, 2010
Yes, it's been a while since I've posted. That doesn't mean it's been a while since I'm made progress on my computer. You can check out
my ModDB
to see any updates for Once I Owned a Kestrel, and follow its development. I implore you to do so. The more followers I have, the faster I work. It's a simple matter of motivation. So if you want to play this game soner, click the link above and become a tracker!
Thanks guys.
Posted by

Ryan
at 12:26 PM
0 comments

Thursday, January 7, 2010
Hello pimples,
A long time ago in a city very very close [to me], a man named Jeff came up with an idea for a video game. The epicality of this game could not be imagined. And so
Lugaru
was born. Now, years later, a new game is conceived – the likes of which no man, woman, or bunny had ever seen before...
I stand before you today in commandment. Go forth and vote. Be part of
ModDB's 2009 Mod of the Year
. However, in order for my will and that of many others to be fulfilled I want you to vote for the following titles:
Overgrowth
Natural Selection 2
Again, click here to vote.
http://www.moddb.com/events/2009-mod-of-the-year-awards/top100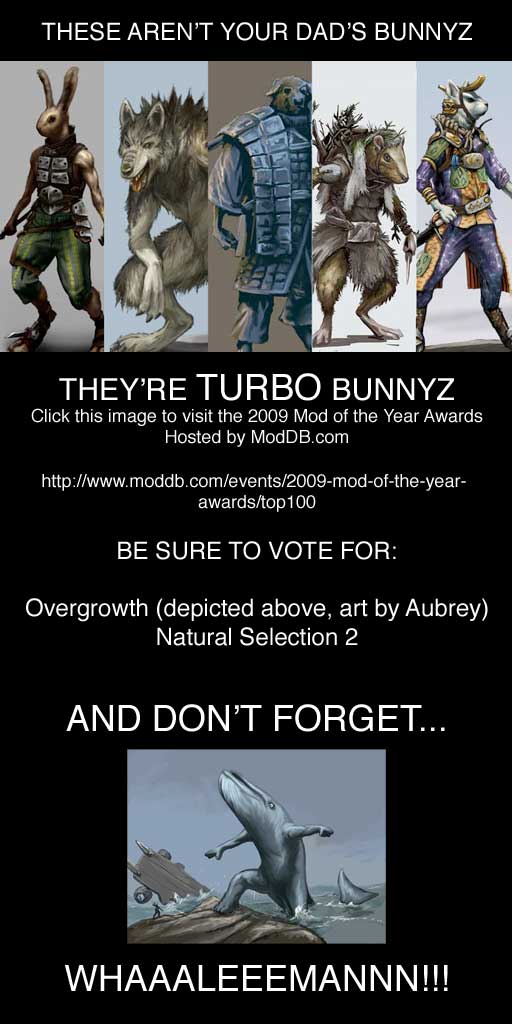 Posted by

Ryan
at 10:47 PM
2 comments